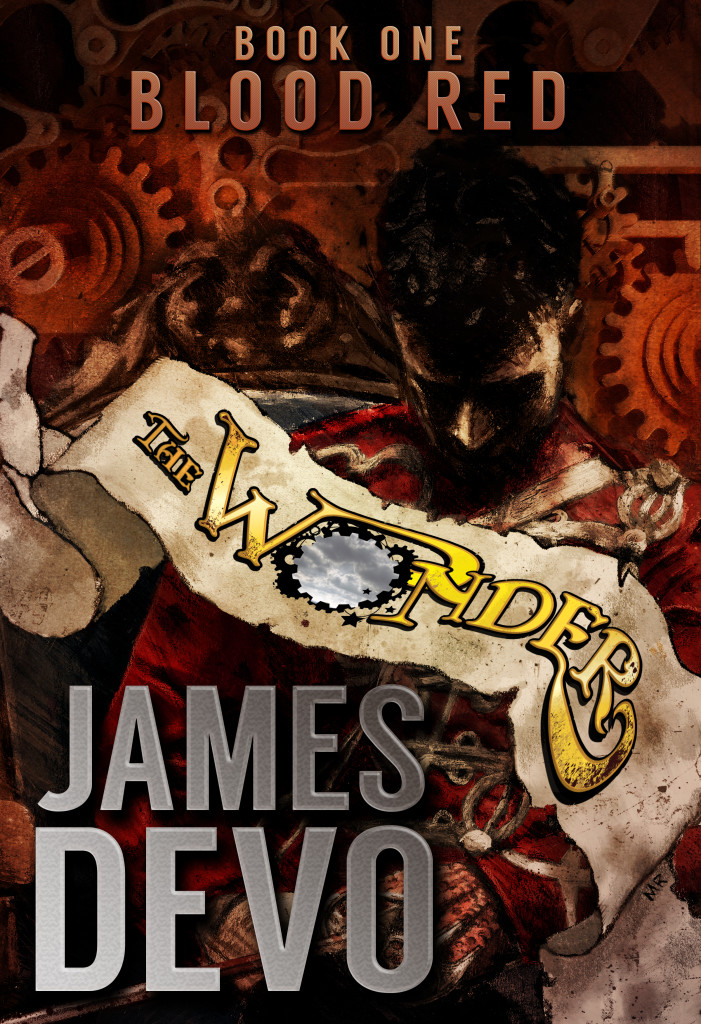 I just finished this book on a long train journey, which is a perfect place to read it. The Wonder by James Devo is the sort of book you should, and probably will, read in big chunks. A primary reason for this is that it is pretty damned exciting and it is therefore annoyingly hard to find a spot to pause and do things necessary sustain your existence. Another reason is that it has a pretty large cast, and there is a tiny risk you will become confused with some of them. I say 'tiny' because the characters are strong and memorable and if I can remember who is who then most people should. Also a train feels pretty steampunk (especially in Thailand where I live and trains are old), so barring a handy nearby steam fair it was a good setting to read uninterrupted. But before I get ahead of myself, I had better mention what the book is about.
The Wonder is set in a fantasy/steampunk kind of world and it is a very believable and well thought-out one. People travel using huge vessels that glide along artificial ice. Ancient technologies abide, alongside new adapted versions of old school tech. Warriors fight with swords and magically enhanced guns, while science types create strange and wonderful new ways of killing people en masse. There are elves fighting giant steam powered robot/mechanoids and mind-controlled soldiers that self immolate when cornered. There are… a ton of pretty cool things. I really enjoyed the world that was created and it never becomes too much info to take on. I've read fantasy and scifi books where you can be halfway into it and still aren't quite sure what the balls is happening. Then there are others that info-dump at the start and prove tedious. That doesn't happen here, you learn in mid-action.
The eponymous 'Wonder' is what underpins everything in Devo's world. It is basically like magic, except that it is a substance. It can be used for weapons or making entire cities work. (A bit like Uranium but without all the cancer.) I'm being simplistic though, it is actually a quite well thought out magic system with different types of wonder doing different functions, which is quite a refreshing take on these sorts of things. Red wonder powers everyday stuff like lights, transport, and handheld weaponry. Green affects the mind and the flesh. Blue is powerful and rare and does all sort of powerful and mystical stuff.
As I said earlier, the characters are great and varied. From gentleman adventurers to psychopaths – and those are the heroes – I found the people in the story great fun and occasionally slightly disturbing. Often at the same time. There were moments when there almost started to be a couple too many but it is handled well, the characters are great, and they all have a function and satisfying story arc. And I love a good arc. Also, Devo isn't averse to killing a couple off every now and then, so you never feel too overwhelmed. Backstories, and most information, are told as the story goes on and they are normally a welcome pause in the action – although quite a few get pretty exciting themselves.
I feel I should stop here as I have gone on a bit. I tend to stick to straight fantasy or straight science fiction and rarely veer off into cyber/steam/diesel/bio/spunk- punk genres. (Ok, I made the last one up, but it sounds like a fun sub-genre.) I get sent a lot of things to review and normally stick to what I know. But I'm glad I gave The Wonder a go as it was truly great read. A rip-roaring one, even. To summarise all the above – I liked The Wonder a lot and you probably will too. Give it a go.
The Wonder: Book 1 – Blood Red by James Devo will be out on the 21st November, swiftly followed by Book 2 – Deep Blue. Keep an eye out.
Here is the trailer: