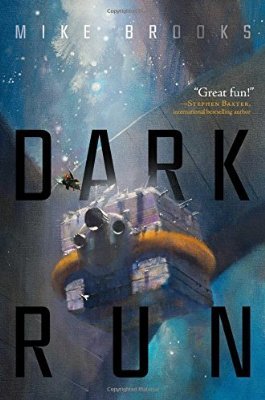 I seem to be reading a lot of books featuring a crew of rag tag, Firefly-esque, semi criminal ne'er-do-wells on a ramshackle but lovable ship, headed by a charismatic roguish Captain. By a lot, I mean two series. The Tales of the Ketty Jay by Chris Wooding is a steampunk series (my review of Retribution Falls, book one, is here) and Dark Run by Mike Brooks, which is a rip-roaring space opera.
Both are great! Buy them. Review done.
Ok, a tiny bit more.
Brief Synopsis of Dark Run:
When Captain Ichabod Drift has someone from his past hire him for a ridiculously well paid caper – a "Dark Run" smuggling job – he has some reservations but it is not only a good deal, it is also a situation he can't really refuse for a variety of *spoiler* reasons. When things inevitably work out differently from planned, he and his motley crew have to embark on a series of dangerous but terribly exciting exploits.
I won't give anything else away.
I really enjoyed Dark Run, an impressive debut novel from Mike Brooks and look forward to the rest of the series. It must suck to constantly be compared to Firefly or even shows like Dark Matter, but I read an interview with Brooks and he fully admitted Firefly fandom, so it's ok. The characters are great and the story is fun. If you like all the references I have been banging on about throughout this review, then you will like Dark Run. I did.