First off, take a look at the cover of this new Mark Millar and Sean Murphy comic called Chrononauts. Look at the watch on the left. What do you see? 1 in 15 people will see something different. More on the Chrononauts optical illusion later…
As I am a bit of a nerd, I still get excited on 'new comic day'. When I was younger, this meant a trip to the local comic book shop where you would meet all the other cool froods who were similarly into such exciting literature. Now, it just means an email from Comixology letting me know what's new and then me going online to buy digital copies. But you can still chat to the cool froods in forums and on sites like twitter, which is also where you can find out cool things about the comics and related topics. What's even better is that the comic artists and writers join in, raising the tone and generally being quite interesting. Which brings me, long-windedly, to the Chrononauts optical illusion.
In the watch face you will see one of the following:
1/ A broken watch face. (What I saw.)
2/ A green hourglass.
Apparently only one person in fifteen will see the hourglass. It's the comic book fan version of the stupid 'colour of the dress' debate. The artist, Sean Gordon Murphy, chimed in on Twitter to explain: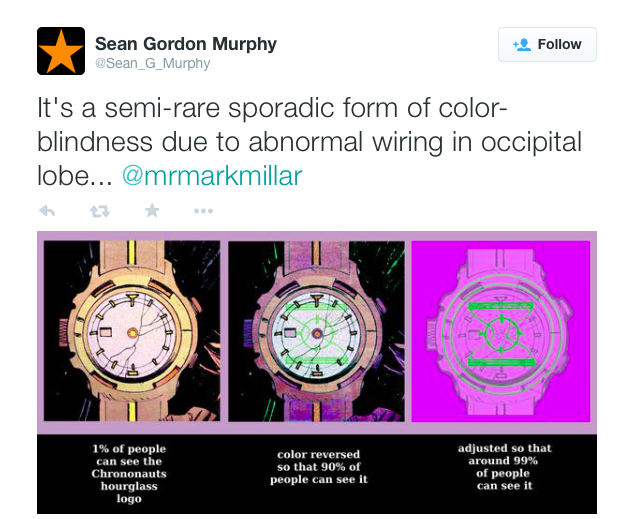 I don't know if this is a cunning bit of marketing and there is no optical illusion but I thought I would share just in case it true. If it is an evil marketing trick then kudos Mr Murphy, I like your style.