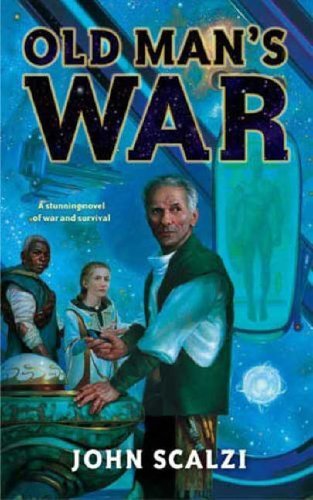 I had been meaning to read Old Man's War for about a decade now and am hugely glad that I finally got round to it. I knew (from what friends have said) that it was going to be a little bit like Heinlein's Starship Troopers mixed with a bit of Haldeman's The Forever War but as both of those books were superb, it shouldn't be a problem. And it really wasn't.
Old Man's War by John Scalzi was published in 2005 but happily it could have been written last week – the ideas are still fresh and abundant. There are more to the series but it works as a standalone, so don't worry if you don't want to launch into something too involved.
The premise is this – when you are 65 you can apply to join the Colonial Defence Forces (space marines) and when you are 75 you actually join. What happens then is a secret but it is generally believed, for obvious reasons, that you are made young again.
The story starts with a guy called John Perry who is 75 and after visiting his wife's grave, he joins up. This isn't a spoiler, it is the first line of the book. Given the comparisons between Old Man's War and the other two novels I mentioned, it is clear that he goes on to see combat. I won't give any more plot away.
The book isn't just space marines shooting the shit out of tons of aliens. That does happen, but the aliens are massively varied and the battles are fun. There are a multitude of other themes explored however – longevity, space travel and it's implications, relationships, and questions about whether you can morally justify shooting the shit out of tons of aliens. John Scalzi is chock full of ideas and he scatters them liberally throughout.
I loved Old Man's War. I read it in two days and then immediately bought the sequel. It is a fairly quick read but it is immensely fun, exciting, touching, and well thought out. I don't read much military science fiction but this was full of ideas and was entertainingly written. If you hate the sub-genre then move along, otherwise I highly recommend it.