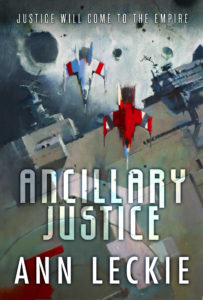 This has been on my 'to read' list for ages. Thankfully I bought it on kindle – Amazon warns you if you have already bought a book and I have almost accidentally bought Ancillary Justice several times now.
A bit of background. Ann Leckie's tale is set in the far future where a human species called the Radchai are aggressively expanding through space. They are ruled by someone called Anaandar Mianaai, who has thousands of gentetically linked bodies. Their modus operandi is to continually expand by conquering a planet, winning over all the important nobility types and suppressing everyone else. Anyone who resists is either killed or turned into a kind of corpse soldier.
Thrown into this scenario is a pretty interesting protagonist called Breq. Spaceships are controlled by AIs and these ships also have ancillary troops made up of the aforementioned corpse soldiers. These soldiers are also controlled by the the AI of the vessel they serve and all have modifications that make them pretty tough in a scrap.
For reasons we don't know at the start, the AI of a vessel known as the Justice of Torren is now reduced to just being just one ancillary soldier – Breq. What happened to the ship and all the other ancillaries is a mystery. Breq is on a mission to kill Anaander Mianaai and there is clearly something wrong going on with the Radchai as a whole.
Ancillary Justice is a great read. I can see why it won so many awards – the Hugo, Nebula and Arthur C Clarke Awards, to be precise. The world, customs and characters are well thought out and the writing is good. I was worried at first that the constant use of the pronoun 'she' for everyone would get annoying. Breq doesn't really understand gender and has trouble distinguishing male from female, so calls everyone she. But actually it's fine.
My only real gripe with the book that it is quite unevenly paced. There are some pretty slow moments followed by scenes where a ton of exciting things go on. When things happen, it is superb but then there will be a period where people are just chilling and worrying about gloves and tea.
Having said that, the book is well paced enough that I read it in a couple of days and it has weirdly stuck in my head ever since. If you fancy a space opera that is a little different from the norm, then Ancillary Justice by Ann Leckie is definitely worth a try. The next two books of the trilogy are already on my kindle.