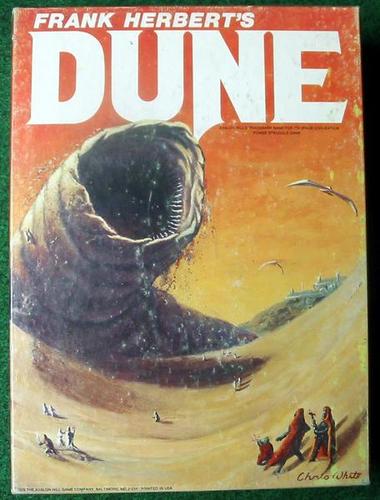 To my colossal shame I only just got round to reading Frank Herbert's classic this year. I've owned about four copies of the paperback over the years and I finally read it on a kindle. To be fair, the book version is quite a hefty tome and the kindle version isn't.
A quick summary in case you somehow don't know the plot of the book or film or TV show or comic or computer games. Set over 10,000 years in the future humanity has spread among the planets and continues to be warlike arsewits to one another. At some point there had been a war with the machines and so nobody uses computers any more. Instead humans have been adapted, bred and trained to be human computers, soldiers, partial psychics, seers and more. One powerful group has been blending the bloodlines to create a mega powerful being called a Kwisatz Haderach . Dune follows the story of a young lad called Paul Atreides (who may or may not be the Kwisatz Haderach) as his family takes of control of the planet Arrakis – also known as Dune.
Arrakis is a pretty special place as it is the only source of the 'spice melange' – a drug like substance that expands consciousness and life as well as allowing space travel through the melange addicted Guild Navigators. Chuck in a power balance between the Emperor and the Ducal Houses and there is a whole lot that can go wrong. So when the Atreides are attacked by their enemy, the absolutely psychopathic Harkonnen, things come to a head. Oh, there are also mega hard desert warriors, huge worms, psychic sisterhoods, plots, assassinations and war. It's pretty awesome.
Dune by Frank Herbert was published in 1965 but frankly, it could have come out yesterday. I agree with many who have described Dune as being to Science Fiction what Lord of the Rings is to fantasy – probably not a great entry point to the genre but once you have read a few things it is a masterpiece that absolutely needs to be read. My quick summary ended being quite long because it is one hell of tale.
If you haven't gotten round to reading Dune yet – you should! What the hell have you been doing with your time? Highly recommended.
By it on Kindle here: