I saw this a couple of weeks ago but never got round to reviewing it. As I'm probably the last blogger in the world who hasn't reviewed this film, I thought I would just skip to discussion bit. I'm assuming you have already seen it.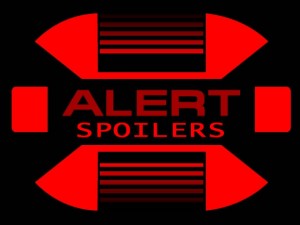 IF NOT, GO NO FURTHER!!! SPOILERS! SERIOUSLY! STOP! I'M NOT SURE I WANT TO RECOMMEND THAT YOU GO AND SEE THIS SO IF YOU HAVEN'T JUST GO READ A BOOK. 'THE UNEVEN PASSAGE OF TIME' IS GREAT, JUST DOWNLOAD THAT.
Ok hopefully that did the trick. So. Prometheus. I was going to write a review that simply read: meh? But sadly I couldn't be bothered.
I should point out that unlike most people I work with, I didn't hate Prometheus. In fact, if the cinema had broken and I was forced to leave soon after they enter the mounds, I would have walked away thinking this is one of the best films I had seen in ages. There were lots of positives until this point. Sadly a lot of these then got ruined. Not all of them but most. Let's look at the good bits first.
It looks great.
It just looked so awesome. The spaceship, the kit, the rovers, the 3D. The scene where the ship is tiny and is seen alongside the ringed planet just looked spectacular in 3D. Probably 2D too but the third dimension tech works brilliantly. Just about everything in the movie looked great throughout and if you complain you are wrong. The blue alien guy could have done with a T-shirt though.
The characters
Up until the point they entered the domes, I was intrigued by the motley crew. They all seem to have quirks and secrets that I assumed would be resolved and expanded upon as the second half unraveled.
Fassbender's robot was by far the best character. It starts with him watching Lawrence of Arabia and watching people's dreams. Then, when he is mentioned by Guy Pierce's hologram as being the son he never had he looked proud and smiled subtly. This then disappears when virtual Pierce says he has no soul. Interesting, I thought to myself, some kind of desire to be human seems to be apparent. Androids in the Alien franchise are always intriguing and morally questionable. Will he end up like a psychotic Data from Star Trek?
Charlize Theron. I could just leave it there. She's gorgeous and any film should be happy to have her. In this film it was apparent there was something else going on with her. She didn't seem to like old man Weyland (Pierce) and was generally just sexy and strong and dominant. Mmmmm. Clearly things are going on with her.
Guy Pierce playing the old fella. Why get a young actor to play an old man? Is he going to get younger at some point? Interesting…
The two main scientists – Shaw and Holloway. They seemed likeable enough. Keen, dedicated scientists intent on discovery. What will happen to them?
An angry geologist – why is he so inexplicably annoyed? He'll probably develop in some way I wrongly thought.
Others are there to fill roles and do so well. I like Idris Elba for example, and here he plays a believable captain. That's about all really.
The Plot
Humans may come from space! Yikes! Take that all religions ever! Except not really, apparently. It's all a bit Von Daniken but who cares? Our makers are on a planet somewhere and there will eventually be aliens involved. This is going to be cool.
OK. So up until this point, I liked it. A lot. And I don't care if you disagree. Sadly it then went a bit, er, disappointing.
What I didn't like about Prometheus
Let's recap the characters.
David still remains intriguing but he is clearly badly programmed. His human desires or want of a soul seem to have just been imagined, by me at least. Maybe Lawrence of Arabia was the only film they had and that was why he had it on. David also does weird things like infect Holloway's drink and then promptly forgets about it. On the planet he is constantly jamming his fingers into holes and pressing alien buttons at random. All very odd.
Charlize Theron reveals that Guy Pierce is her dad. There has been no real character development here, so it is hard to see why we should give a shit about this. She then gets crushed by a massive falling, rolling spaceship that could have been easily avoided by dodging a bit. Her character seems a waste time really. Frowny face.
Guy Pierce is alive! Again: so what? Why the hoax exactly? Who would have cared? The only astounding part is that they used a younger guy to play an older actor for no reason at all. I can only assume this is because he will appear in the sequels. Or the prequel's prequel.
Holloway. What the balls happened here? He starts off massively excited about cave paintings but when faced by an actual alien body on another planet, he is so disappointed he immediately gets wasted. It doesn't make any sense. He is clearly a shit scientist as he hurries into the mound and removes his helmet within the first few minutes after landing, like an eager child on a dare. THEN, when he's drunk and is all 'Boohoo cave paintings were mind boggling but this trillion dollar interstellar trip with its alien craft, technology and actual dead aliens just sucks', he ingests some alien liquid. He soon sees some weird shit in his eye. This isn't a herpes sore he is trying to hide from a new girlfriend, it is a moving alien growth in his eye. When asked if he's ok, he just replies, 'Yeah nothing, let's have sex.' Logical scientist.
Shaw. She's pretty cool actually. The scene where she gives herself an abortion was pretty tense and well done. Lots of internet types have griped that she shouldn't have been running around so soon after but they are presuming a knowledge of future medicine they don't have. It seems possible that skin generation might be more advanced for example. Plus Panadol ++++++ mega ultra might be more effective by then.
Angry geologist and all other characters: never develop at all. They just die. Normally for utterly stupid or pointless reasons.
General annoying plot holes and stupid themes
Why this planet/moon? The captain explains that the planet/moon is actually an outpost where they were conducting biological experiments. This explanation seems based on nothing much at all but everyone henceforth treats it as solid fact. So when the aliens visited earth lots of times and in lots of different places, they were told: 'paint maps on their walls please, but just direct them to an outpost'. It must have been an old outpost as some of the cave paintings were tens of thousands of years old.
How did they find the mounds? When they arrive the planet seems dead. They fly through the clouds and spot the mounds straight away. How lucky was that? It's like flying to Earth at random and finding the exact town you were looking for straight away.
Why were the geologist and biologist such useless twats? The angry geologist is the guy who maps the place, which is then uploaded to a live map in the ship. How do they get lost? Also, if they are such chickenshits that they flee after seeing the alien bodies, why hide out in a room with a giant spooky head, lots of mysterious vases and then, when they see a live alien, go and pat it? 'Phew, we escaped. Something weird killed all those aliens thousands of years ago and it might still be here. Sadly we are lost and I'm too embarrassed to ask for help as that is my specialist skill but at least we escaped the dead bodies and whatever killed them. Let's hide in this huge room with all the stuff in it. Awww look at cute snake-like creature rearing up at me on this supposedly dead planet. Hello snakey…'
Why ignore gravity and inertia? Here is a tip. If a massive ship is moving up and away from you and it is destroyed in mid flight by a ship moving in the same direction don't worry. It will continue in the same direction and crash even further away from you. Apart from here. Tip two. If the ship is round and rolls down a hill toward you, dodge to the side. To the side. Or you could hide under a rock apparently.
The Captain apparently has to die but the other two? Really? By this point my pedantic mind had almost stopped working but it twitched briefly to life when this happened. 'I have to die by flying this ship at the alien one.' Other two: 'Yeah fuck it, we might as well die too. As characters we are too minor to survive anyway.'
Final point – themes in general.
There are parts of Prometheus that feel like they are just poorly edited. The whole Christmas/Christ's birth and death/Christianity thing going on didn't feel like it went where even the makers of the movie wanted. First off, it's Christmas. There's even a Christmas tree to establish this theme. Shaw is a Christian and is infertile and then has a miracle birth. It was revealed at some point that the aliens hate humanity because of a disaster or something on Earth 2000 years ago. According to an interview I read, this was Christ's death and there was going to be more about it but in the end, they couldn't be arsed.
Kings/creators are inevitably killed by their creations. Theron points out that all kings die to her ancient dad. Well spotted. This theme is further developed by Old Man Weyland being beaten to death by David's head. The Engineer alien is killed by the Xenomorph alien. If we continue this theme then Shaw will somehow kill all the Engineers in the following films. Maybe with help from the Xenomorphs. The Xenomorphs and androids will then kill all the humans. The third film will then inevitably be war between aliens and robots. I'll admit this is unlikely, but it would be cool.
If we have the exact same DNA as the Engineers why don't apes? Or all other life. Was that bit at the beginning just the creation of mammals or all life? Just humans? Did we not evolve from apes and jellyfish? What? How? Er?
I'm done now. Sorry.
I feel I may have gone on about this a bit too much. I apologize. I meant to write a brief piece then seemed to rant a bit. As I stated what feels like hours ago, I didn't hate Prometheus. I loved the first half. Some of the above plots may even be clarified in the following films. I hope so. My advice would now be to call in the Space Marines.