A new film version of 20,000 Leagues Under the Sea has been talked about for a while. I'm a bit shocked they haven't 'reimagined' a gritty version for TV already, let alone spent a wad of cash on a CGI-filled summer spectacular action flick. Well, it looks like it might finally happen with Bryan Singer at the helm. (Like my nautical-speak there?)
This should be a good thing as Singer is generally pretty decent. The news came out on Twitter: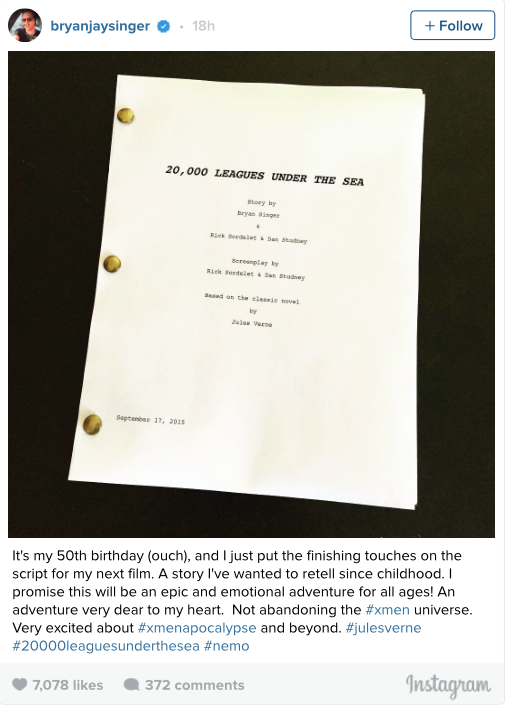 I remember watching the James Mason version from the 50s when I was a kid and I loved it. I also reread the book by Jules Verne recently, so I am something of a fan. I am a bit curious about how they will do it. Will they stick to the original novel where Nemo is an Indian and is a kind of terrorist/scientist/angry-man-of-the-sea? He's an awesome character in 20,000 Leagues and Mysterious Island.
Personally, I think they should keep it in the period of the book. I nearly always think that though as I I like the settings of Scifi classics and don't see the need for modern updates (apart from budgetary needs I guess). I'm looking at you, War of the Worlds.
20,000 Leagues Under the Sea is one of the books I can't believe hasn't been redone. I think Jules Verne and HG Wells need to be looked at again (Hollywood I'm talking to you). Stephen Baxter's The Time Ships
would be good too (official sequel to Time Machine and absolutely brilliant). Actually I could list books that need doing for pages. If any major Hollywood studios want suggestions my email is Scifiward@gmail.com. My fee is surprisingly cheap.