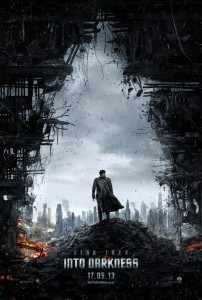 Go and see 'The Hobbit' at your local IMAX cinema now. If you do, you may be lucky enough to see the first nine minutes of Star Trek into Darkness. As a bonus, The Hobbit is pretty fun too and I'll probably review it at some point.
This film looks like it will be incredible. I've mentioned before that I'm a bit of a Trekkie (one of the cool ones though), and I'm loving what Abrams is doing with the franchise. I am also a fan of excitement, spaceships, exotic locations, and attractive women in tight futuristic outfits. All my Trek boxes have been ticked.
The extended trailer starts with Micky from Doctor Who and his Mrs waking up in a futuristic London. They go and visit their sick daughter but things all seem pretty grim and she's in a coma or something. Then Benedict Cumberbatch comes in and says he can help Micky's daughter. Predictably Micky asks who are you? To which he gets the reply: I AM KHAN! Actually not really. Sorry. Just kidding. He doesn't say anything.
The film then cuts to Kirk and Bones being chased across a cool alien planet by some primitive looking fellows in white. In the background a volcano starts to explode. In 3D this equals lots of ash floating in front of your eyes from which native arrows and spears shoot out at your goggling visages. In all, it is very exciting indeed.
The action then cuts to Spock, Uhura, and Sulu who are in a shuttle that is going to lower Spock via a flimsy wire into the volcano.  Things don't go totally according to plan…
More things happen but apathy and the risk of ruining your enjoyment prevent me from continuing. Let me just say that if it were any more exciting, they would have to issue a warning.
You can see the 9 minutes online at a few dodgy sites BUT DON'T. The clip I checked out was awful and roughly a billion times worse than the real trailer. For one thing, it's 3D so the shakily held camera recorded blurred images. I could have embedded it here but I don't want to support that kind of behavior and hope that Abrams may read this site and invite me to the premiere. (Even just the London premiere would be fine.)
So go now and watch it in the cinema! Engage!