I know I should be more excited about Batman and Superman when it comes to the new Batman vs Superman film, but… well… you know… Wonder Woman. An Amazonian warrior princess who may or may not be a demi-god depending on which origin story you follow. Who's not going to be interested in that?
I'm sure some purists will complain that the picture of Gal Gadot as the new Wonder Woman isn't what they envisaged. But the original outfit would look crap on the big screen. Here is the first glimpse of Princess Diana (that really is her name) in Sensation Comics 1942: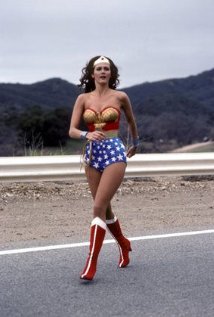 Or maybe people think she should look like the Wonder Woman  who featured in the TV show from the late 70s? I remember she featured quite heavily in my dreams when I was about 8 years old. But then so did the Bionic Woman and Mindy from Mork and Mindy, so perhaps it wasn't just the outfit. Also, a costume that looks like something a pervert would make if given  an American flag is a weird choice of clothing for a foreign princess.
I think the new outfit looks good. Exactly what I imagine an Amazonian warrior princess would look like. And that is something I imagine a lot. Basically, the outfit is a variation on Xena's which is no bad thing given what it could have been.
Without further waffle, here is the picture. See what you think.
Thanks Wikipedia for the old comic pictures (http://en.wikipedia.org/wiki/Wonder_Woman)