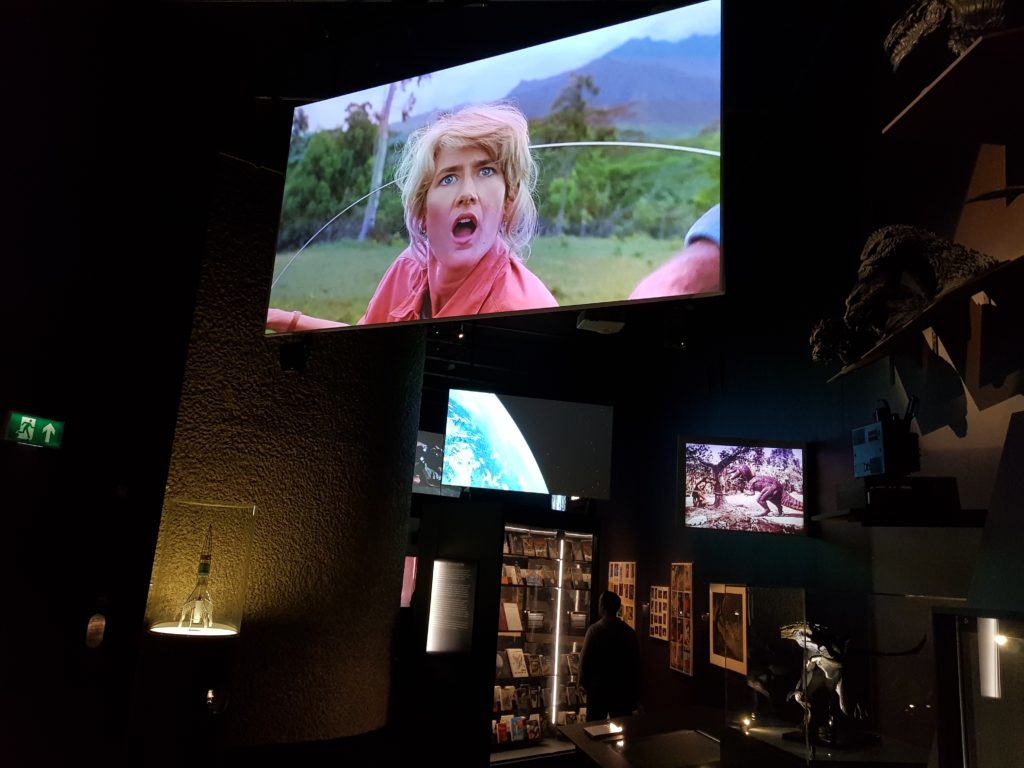 I saw 'Into the Unknown – A Journey through science fiction' a couple of weeks ago. If you like science fiction and are in London, I highly recommend it. It consists of quite an eclectic group of science fiction artefacts, pictures, installations, models and videos. Here is the blurb:
From the 19th century cabinet of curiosities, to the vastness of space. Through future cities, into the inner landscapes of human perception.
Uncover the mysterious lands of Jules Verne and Ray Harryhausen where Science Fiction narratives first took root. Venture on an odyssey into our solar system, with vintage artwork promoting Soviet visions of space alongside immersive work by Soda_Jerk. Visit a gallery of aliens, and stand alongside iconic spacesuits from a galaxy of blockbusters including Star Trek and Interstellar.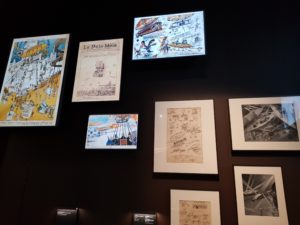 Imagine dystopian worlds with Margaret Atwood and 28 Days Later. Then, with nowhere left to explore but human consciousness, delve deep and experience the transformation and mutation of the body through the eyes of Jack Kirby and Ex Machina.
Curated by historian and writer Patrick Gyger, this festival-style exhibition consists of more than 800 works, many of which have never been seen in the UK before. Continuing across the Centre, it includes artwork from Isaac Julien, Larissa Sansour and Conrad Shawcross, and an installation from the creators of Black Mirror."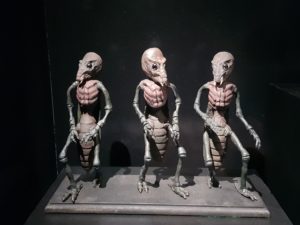 I struggled a bit to find a common theme at 'Into the Unknown' but maybe there wasn't one. Just lots of science fiction goodness.
The main room has a huge smorgasbord of stuff – old magazines, video clips, models, props, outfits, books, comics and more. I really enjoyed it and even spotted a couple of books I hadn't read. There is an interactive bit from the Martian, which was quite fun and some superb models from Harryhausen and designs based on the awesome HR Giger. Near the end are the spacesuits used in films like Star Trek and Sunshine.
The exhibition continues elsewhere but they were a bit hit and miss for me. In the Pit, there is a kind of robotic arm that moves around shining a light. It was kind of cool – more like an art installation that looked scifi-ish than anything else. There was a short film in another room that was ok. In the entrance/exit there is an installation by Black Mirror which is intriguing if you haven't seen the show – if you have, then it just makes you want to rewatch them all again.
On the whole, I thoroughly enjoyed 'Into the Unknown' and would recommend it. The main room is the best bit and although it feels a bit random, the stuff on display is great.
Here are some more pics. Enjoy.