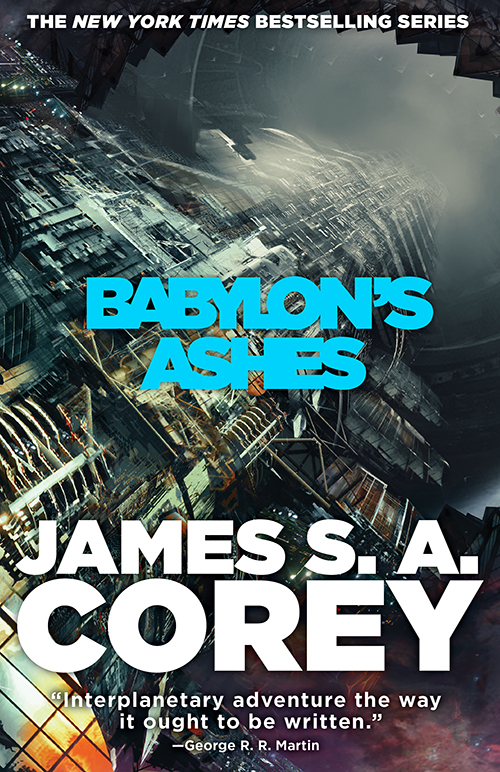 This review of Babylon's Ashes: book 6 of the Expanse will only be of interest if you have read the first five Expanse novels. Which is an obvious thing to say but you may have stumbled here by accident.
I love the Expanse, the books as well as the TV show. Again, this should be apparent given that I am now eagerly awaiting book 7. Babylon's Ashes continues telling the story of the crew of the Rocinante and increasingly, the story of a shitload of other people. The cast is seriously ballooning, which is generally a good thing although it can be hard to follow if, like me, you have time away from the series.
I read somewhere that the series is supposed to be 9 books – 3 duologies and a final trilogy. Babylon's Ashes was a great read but it did read a little like a "book 6" (if you know what I mean) while at the same time wrapping up the events of book 5. I do find the Free Navy, (and to a lesser extent the OPA,) a bit like an angry teenager banging on about stuff not being fair. This book deals with the Free Navy a lot. In the last book they trashed the Earth, in this one, they mostly act petulant and try to fight a lot.  There are some great set pieces though and a load of awesome space battles. There are also some other more mysterious alien elements developing in the background, in case you forgot.
So while Babylon's Ashes is a great story, it deals more with the OPA/Free Navy and less with stuff I want to read about – aliens, the rings, the new planets, Miller, etc. There is a feeling that it is finishing off some storylines and setting the scene for the epic final trilogy. As such, it wasn't one of my favourite entries in the Expanse series but I still enjoyed it and I am totally on board for what will hopefully follow. Go Expanse!