I have spent a huge chunk of my life playing Destiny 2 and it was totally worth it. It is a Massively Multiplayer Online (MMO) game set in space with Player vs Environment (PvE), and Player vs Player (PvP) elements. If you are interested enough to even read this far into the review, then you probably know all that already.
I never played the original Destiny but apparently, Destiny 2 has a better story. Essentially: there is a big baddy with a shitload of minions and you have to save the day using a shitload of guns and ammo. Once you are done with the story, which I really enjoyed, you then enter multiplayer and endgame stuff. 'Endgame' here sounds like a tacked-on adventure, but it is actually where you will probably spend most of your time, so I should probably clarify the structure slightly. You will spend about 10 hours completing the story, by which time you will hit level 20. You can then spend as much of your life as you fancy in multiplayer. (If you get the Curse of Osiris expansion then the level cap is 25). The story is basically a highly enjoyable 10-hour training session giving you the chance to learn the various skills and get some decent loot.
Destiny 2 is all about the multiplayer and there is a ton of stuff to do. I have played a few PvP events but they are basically the usual fare: you run around and get killed a lot by teenagers with faster reflexes and internet connections than you. It's not really my cup of tea but that is mostly because I am shite at it. Most of the rest of my time has been spent in PvE running around doing patrols and mini-adventures, joining in public events, and going on raids and strikes with a team of online players. All of which is great fun. You then get loot and cool stuff to make your character more powerful and look sexy.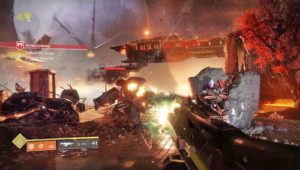 I have spent an embarrassing amount of time playing Destiny 2 – which is still less time than a lot of people there – and have now pretty much tried all aspects of the game. I have also completed the Curse of Osiris expansion. I am at a stage where my experience of the game is the same as a lot of other commentators. It is still incredibly satisfying and fun to wander around shooting bad guys. Which is good, as that is what you spend most of the time doing. However, I am now a bit bored. Once you have maxed out and done everything, all you are left with is shooting stuff but with no real point to it.
With a lot of MMOs, especially MMORPGs, there is a social aspect once you are at the final bit of the game. I have played with a friend online and it was great fun but compared to something like Warcraft, I just couldn't find enough to stay interested in. There is another expansion coming soon which I may try depending on the reviews but until then I have other games to play.
I really, really enjoyed Destiny 2 and highly recommend it if you like running around shooting stuff with cool futuristic guns. The story is fun and so are the post-game multiplayer experiences. There is a new expansion pack due "Spring 2018" so hopefully there will be more to do soon. If you haven't bought it yet, maybe wait for that. In the meantime, here is a trailer: